We spent last night studying the weather forecast for both the Little Miami and the Elkhorn.  With weather moving in from the hurricane in the Gulf of Mexico, neither option looked that great.  Ted was on the LMR the day before and said that the clarity wasn't that great, so we decided early this morning to run down to the Elkhorn.
As we were sitting streamside getting our gear together, the noise of the cicadas was not to be missed so I thought I would start with a topwater foam bug.  Nothing.  As I worked my way downstream I switched to a purple & white clouser and worked a nice long riffle and all of the slow side pools in the vicinity of the riffle.  Nothing.  Then I was working a long bank with a Dixie Devil.  Nothing.  Had about a ten minute light rain.  Finally I arrived at my favorite stretch so I put on my go to Bead Head Rubber Leg Wooly Bugger size 4.  The entire stretch produced Nothing.  I finally picked up a sunfish before I hit a fast riffle section.  Not much excitement, but at least I wasn't skunked for the day…barely.  I continued to work nice looking water with no results.  I decided to hed back to the truck and have some lunch and as I worked my way upstream I was able to pick up a decent smallie on the Bugger.  Pretty slow morning and a ton of casting.When I got back to the truck the report from my fishing buddy was three to hand; one decent smallie swinging a streamer just upstream from a riffle.
After lunch we hit a different section of the creek and I walked past all the water I have fished before and kept walking until I was on unexplored water.  I started with a Dixie Devil along a mud bank and scored a decent smallie.  I switched to the BH Bugger and threw to some small pools in slack water on my right and got one aggressive take after another.  I didn't think much of these pools because they were so exposed to predators and I was really just tossing my Bugger in them before I waded through the slack water.  The "good looking" water on my left I was leaving for my downstream wade.
I now came upon a much larger slack water pool and I picked my target and lobbed my Bugger into the still water.  SMACBOOOM.  He slammed the fly the millisecond that it touched the water and he was rocketing away.  He jumped, he swam, he turned and was heading out of the cove and into the fast water.  I knew he was nice and I didn't want to lose him, so I horsed him to the shallows and landed him.  I am glad I was using a 12lb Big Nasty leader so that I could turn him when I wanted to.  He measured 15" and fought like he was double that!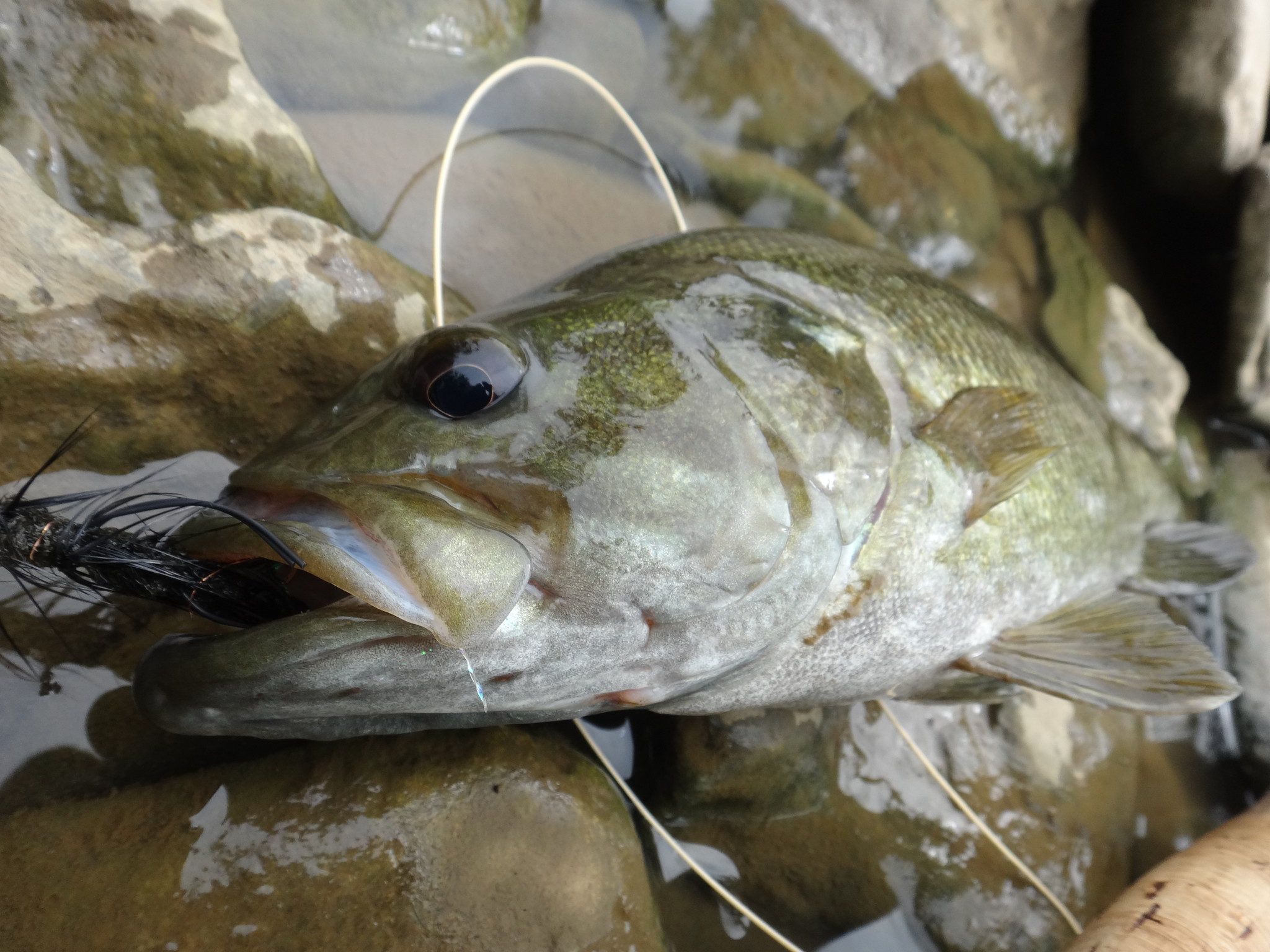 I picked up a handful more nice smallies and did not get one in the "good looking" water.  My fishing buddy was downstream and having luck here and there.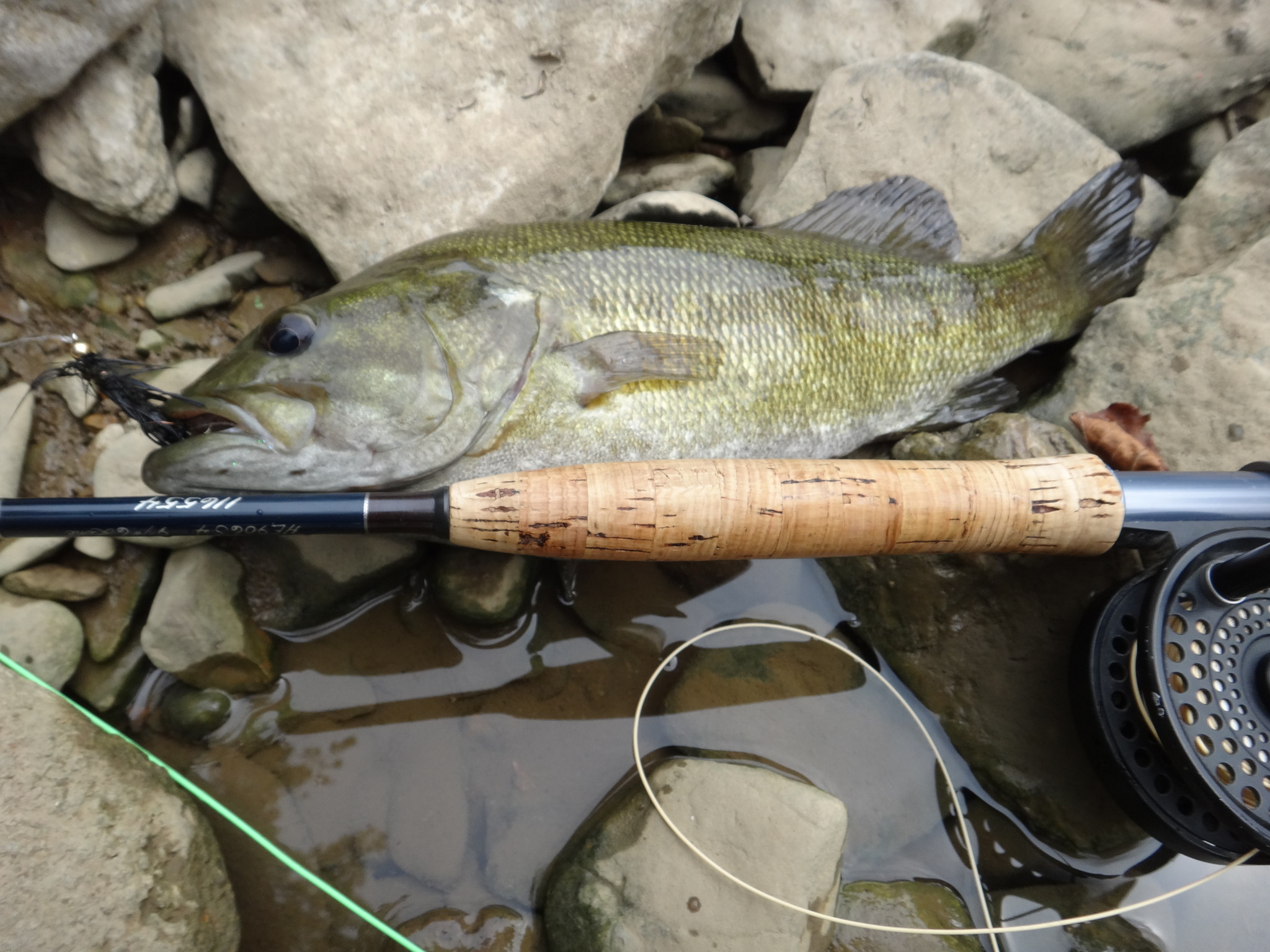 Summary: had to work for our fish.  Lots of casting.  Lots of changing flies.  Lots of knot tying.  The Elkhorn still needs some water in it.  I hope it rains for a day.